Red Kite Class Y6
Home Learning Week 2 Day 1 (30.3.20)
Good morning Red Kites - well done for getting through the first week of your new way of learning. Although we are living through a very unusual time, I hope you enjoyed your weekend and I am interested to know how your sunflowers are coming on. If you would like to send Mrs Fox an image of where you have your sunflower in the house, then I will upload any images onto here for us to share.
Learning for today:
Reading: Puzzle A - Haunted House page 20.
Maths: Arithmetic A - see below for guidance on Q4
q4. 2 and 3/4 x 8 can worked out as 2 x 8 and then 3/4 x 8. 2 x 8 = 16. 3/4 x 8 is the same as 3/4 x 8/1 = 24/4 = 6. 16 + 6 = 22.
or
you can convert the number into a mixed number. Two wholes = 8 quarters. 8/4 plus 3/4 = 11/4
11/4 x 8/1 = 88/4
Convert back to a mixed number: How many groups of 4 can you get out of 88? Mental method or short division = 22
SPaG: Puzzle A - Paige's Puzzle on page 19. You can draw this out in your textbook or just write the correct answers without drawing the grid.
TTRS: I have updated all personal times tables for children to improve their speed when playing TTRS Garage. These have been chosen as they are the times tables which your child can improve their speed on.
TTRS Battle of the Bands : I have laid the gauntlet out to all of the children to see if they can challenge me in the next two days!
TTRS Rock Slams: You can also challenge another child from Red Kites!
Additional ELSA links to support learning:
https://www.elsa-support.co.uk/health-and-wellbeing-during-the-coronavirus-outbreak/
https://www.elsa-support.co.uk/sleepy-mobile/
https://www.elsa-support.co.uk/roll-a-positive-question/
Additional topic areas to explore:
Produce an animation linked to spring learning or summer topics
Take apart any piece of old technology (with adult support where necessary) that you might have and look at how it is made and how it works. This is all linked to programming.
Research their life using photos and interviews with adults at home. Where have they been? How many miles do they think they have travelled in their lifetime? How could they work it out? All linked to autobiographies and biographies
Research their favourite person and try to write a biography for that person
Family tree linked with the above but also science (evaluation and inheritance)
Research the history of Rotherwick. What has stayed the same? What is different? Why have these changes happened? Why have things stayed the same?
----------------------------------------------------------------------------------------------------------
Home Learning Day 4 (26.3.20)
Hello Red Kites - I hope you have another good day and continue to be a Mini Mr G in your learning - remember to scribble things down to help you, do not keep things contained inside your big brains - get it all down in your exercise books! I took part in the now-popular Joe Wicks PE session (see YouTube if you have not seen it yet) with my daughter today - some fun activities in there: Spiderman was our favourite!
Reading: Challenging Captivity - could you write a diary entry or letter in the role of Nia? Does she want to live in captivity?
Writing: Pobble365 - Hole in the fence. I am looking forward to hearing about your imagination! Is this the first time that the boy has peered through the cracked panel fencing? What happened to his pupil (think science) when he gazed through? Is he pleased with what he sees? Does he grasp? Does his breathing change? How can you show me his emotions instead of telling me?
E.g. He was terrified.
E.g. Suddenly, Billy felt his heart beat harder and faster inside his rib cage while his eyelid blinked against the coarse wooden panel. His chest was expanding as he was exhaling: he could not control his breathing.
Maths: Can we improve our TTRS on yesterday? I know there were many of you who did not log on - were there more issues with the site? Email the school admin office if there are any issues.
SPaG - remember if there are any areas that are not yet secure, the SPaG matching cards can be used. Active/Passive on Q12 will need a secure understanding and Q5 demonstrates knowledge of how commas are used accurately.
Home Learning Day 3 (25.3.20)
Today, during my outdoor exercise, I spotted a member of our class!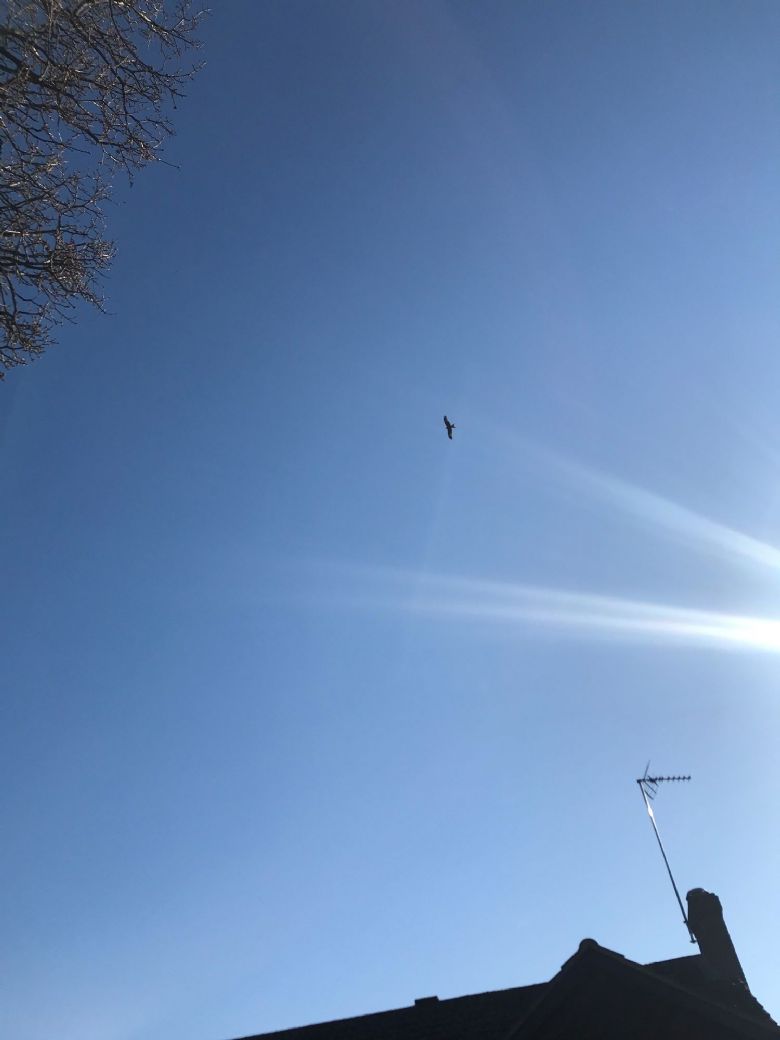 I hope you all enjoyed reading all about bungee jumping. I am sure many of you would love the opportunity, where others - like me - would kindly turn down the chance!
Pobble 365 - sick sentences
The possum had eyes and fur. She went up the branch carrying her young.
The exhausted possom had tired eyes and tangled fur. She traversed gingerly upwards on the creaking branch carrying her precious young. How had it come to this? Uprooted from their home, which her young were born into the world, the family had a matter of hours before the dappled sun descended on them.
Maths focus: Q5

One aeroplane costs £3.40. Two aeroplanes cost double that.
3 x 2 = 6 and .40 x 2 = 0.80
Two aeroplanes = £6.80
To find 20% either find 10%, double it or divide 6.80 by 5 using mental methods or short division written method. 10% = 6.80 divided by 10. 10% = 68p therefore 20% = 136p = £1.36
Times Table Rock Stars
I know there may have been some issues with logging on since Home Learning began and I can now see why...
Normal day on TTRS - 180,000 children.
Busy day on TTRS - 250,000 children.
Home Learning onTTRS - 480,000 children
They have made improvements and upgrades so I hope that it has been running smoothly!
Home Learning Day 2 (24.3.20)
Questions to support writing...
1) Why do you think the man practices his magic using chairs?
2) What other magic do you think the man possesses?
3) Why do you think he is in a field?
4) What do you think his home is like?
Example taken from Pobble365 and extended.

He held them with his mind. He controlled them. He could not believe it had happened again.
(Power of 3)
The chairs swirled and rotated around him, dancing (progressive personification) as if held by invisible strings. He practised on chairs, however his powers allowed him to manipulate things far more complex than that.
With his soft, long bony fingers pointing towards the dense undergrowth beneath him; his mid grey formal waistcoat buttoned in its entirety: all six of the circular buttons fastened; and his proud white ironed shirt folded at the sleeves, the silence in the vast open wasteland enabled the masterful magician to feel at one with his surroundings. His daily routine was complex and precise yet it was all intricately planned to allow his mind to, for a few moments a day, forget about the aching hole in his heart ever since that day last spring. The day that came as a surprise. The day that he does not want to ever repeat. The day that everything he knew and had loved changed forever.
Home Learning Day 1 (23.3.20)
Hello to all children and adult Red Kites!
Greta and I have had a productive day: we only found one water bottle, one sunflower and two clay badges that had been left behind. I hope the Home Learning has been positive today - enjoy the sunshine! The writing stimulus on Pobble365 is one we have not seen this year. The writing example that they have used is a very good one...
6AM: I left the house on my own, wrapped up in my warmest coat (which I wear every day) to make the 3km trip. I met up with other children from my village, and we huddled together beneath the mountain to keep warm, waiting for the last couple of stragglers to arrive. As soon as we were all together, two of the dads put their sledges and emergency packs on their backs, and we set off for school…
- use of relative clauses
- coordinating conjunction to link two main clauses
- Use of subordination at the start of a sentence by using a subordinating conjunction
- Key language (stragglers and huddled)

Here are some extra links to support any ELSA questions or learning through social stories that the children might find useful.
https://www.elsa-support.co.uk/social-contact-story/?utm_source=mailpoet&utm_medium=email&utm_campaign=some-more-resources-to-support-the-coronavirus-situation_82
https://www.elsa-support.co.uk/we-are-at-home-right-now/?utm_source=mailpoet&utm_medium=email&utm_campaign=some-more-resources-to-support-the-coronavirus-situation_82
https://www.elsa-support.co.uk/positive-paper-chains/?utm_source=mailpoet&utm_medium=email&utm_campaign=some-more-resource
January 2020: Spring Term
Welcome to 2020 from Red Kite Class! The children are very excited about their new name and have already being busy in class learning all about the red kite. I am hopeful that it will culminate in a new member of our class.
The Autumn term was a fruitful one and the children will settle into the Spring term knowing the structure, responsibilities and expectations as the oldest children in the school.
This term sees a shift in focus from 'Magical Mexico' to 'Movers and Shakers' where the children will learn about the Polar Regions as well as key figures who have shaped our world and ones which continue to strive for greatness. This will include Ann Daniels, Greta Thunberg, Tim Berners-Lee, Walt Disney and Millie Garrett.
The Spring term offers us twelve weeks of learning in the run up to the Easter break. The children need to arrive at school organised and focused to enable them to be resilient, reflective and robust in their learning. With secondary school on the horizon, it is imperative that these children have routines and strategies in place to support their education.
Your child needs to bring a water bottle and their reading record into school every day. Their PE kit, including shorts, jogging bottoms, a t-shirt and jumper, should be brought into school on Monday and taken home every Friday.
The new home learning menu for the Spring term will be sent home on Friday 10th January. I will also provide spelling words which your child needs to continue to focus on. These will be stuck into the back of the home learning book and the expectation is that every child is learning their words over the course of one week in school and at home; times tables recall can be developed and enhanced on TimesTable Rockstars.
If you have any questions on the above, please book an appointment through Mrs Fox or come and find me on the playground at the end of the school day.
I look forward to seeing as many of you as possible on Friday 31st January at 9:10am for your child's last class assembly at Whitewater before the Key Stage 2 production takes over all of our lives in the Summer term.
Thank you for your continued support.
___
Travel update
We are en route from Southampton. Without any delays, the coach should arrive back to school at 3:55pm!
Day Five: Friday 20th September
The children did so well this morning to tidy their cabins, pack and get everything in storage after breakfast - I was very impressed.
Our last breakfast was a special one: a PGL birthday is always well remembered and Darcey's will be too, I am sure. It seemed rude not to have some kind of birthday cake even if it was straight after sausages, hash browns and mushrooms!
Most of the rooms managed to strip their beds and take all of their possessions although, in all the excitement, the birthday girl nearly left her toothbrush and toothpaste behind!
Group 2 started with vertical challenge: a brand new activity on site where you climb ropes, ladders and tyres to the top. Monty has found his stride and was straight up to the top. He is in good form now! James too performed well and got to the summit alongside me.
Group 1 had sensory trail and it seemed some got a little wet - thankfully the sun is shining on us again! The sensory trail is always interesting as the children are blindfolded and have to rely on information given by their peers: Trust is key. Sadly for Luke, their was a little rain shower which followed him around. Usually, sensory trail can get very wet and muddy but the children got away very lightly as we will be leaving shortly!
All that is left, is time to collect a packed lunch as our coach will depart the site at 12:30.
Day Four: Thursday 19th September
In the views of the intrepid adventurers that we have here at PGL, last night was the best night of sleep so far. Excellent! All was quiet and all was calm after story time. This delightful mood continued throughout the morning. Breakfast consisted of scrambled eggs and beans for some and bacon and toast for others. The morning activities were on the minds of many of the children. Maybe this was why there was a spilled drink on one of the tables but fear not as Freya was there pretty quickly, without being asked to, to help mop up the spillage. That bonus point was richly deserved.
The children had seen many children from other schools take part in Trapeze while we were on other high rope activities and today was their turn! Eva was completely determined to get herself up the telegraph pole and to catch the bar - your calmness and determination has been unique. We made it! Not for the first time this week, Erin mastered yet another rope activity and is utterly in her element when faced with something to climb and complete. I have visions of her with the PGL hoodie on teaching a group of children!
Survivor gave the children the opportunity to build dens to suit different climates as well as to create fire. James and Joe were so resilient in trying to light their cotton wool and with seconds to spare they got there! A brilliant achievement. If I need any help to survive in the coming months, Monty Girling will be my man. Monty Grylls to be more precise. Knowledgeable and supportive in educating others - well done.
Lunch came around extremely quickly today but the baguette or wrap with cheese, ham, coronation chicken or crisps was soon devoured. Following our hearty lunch, the children had the final opportunity to go into the shop. Lots of children deliberated for what seemed hours over their choices which was lovely to see because it meant the money was valued and they felt very fortunate to be able to purchase things.
In the afternoon, we headed down to the beach for canoeing. The setting was idyllic. The sea was calmer than it was on Tuesday and the sun was brighter yet the children were more tired. It truly is such a lovely place to spend quality time with the children, outside of the classroom and enjoying laughing, talking and experiencing things together. Special mention to Daniel who didn't stop smiling on either the kayaking on Tuesday or during canoeing today and picked up the key skills quickly. A new Redgrave in the making? Only time will tell.
Dinner now seems like a different era in time and we have lived our last full day as a PGL resident. There have been smiles and tears, laughter and tantrums along the way and that is only me and Mrs Laurie. It is fair to say that the children have felt a whole roller coaster of emotions this week and have had to deal with one another when at their weakest and most vulnerable - I know that this week will set the 2020 cohort up in such good stead for the rest of this year and I cannot wait to get back into the classroom with them and help them be the best they can.
We have thoroughly enjoyed an excellent week with a very supportive, social, emerging and endearing bunch of children and you should feel proud of them.
They may return to RG27 tired and grumpy and possibly without many words or in Jack's case, without much voice. The week at PGL is a long one entwined with many emotions yet they will leave with a heavy heart due to the achievements they have made, the independence that they have shown and the relationships that we have formed.
I aim to send an update before we depart tomorrow lunchtime to celebrate a little birthday amongst the ranks. As previously mentioned, I will be in touch with Mrs Fox on our journey home to ensure you are given the most accurate time for our arrival and I look forward to seeing you there.
Day Three: Wednesday 18th September 2019
Apologies for the break in radio contact! Every time I try to compose and upload, something else is going on and we are having too much fun!
As I previously said, the children are getting into the PGL routine but that cannot be said for waking up for breakfast at 7am. There were some sleepyheads this morning and rooms had to be roused multiple times. Soon enough, the children were treated to hash browns and sausages, which improved the mood dramatically!
Jacob's ladder always throws up a wide range of emotions as it's tall, wobbly and tricky to navigate. Sophie did an amazing job in getting to the top alongside me and Islay. Although the girls reached higher than I did, it was a personal achievement and the furthest I had ever got so thank you! Sophie seems to have nerves of steel: looking slightly petrified and then just completing everything without any fuss and always with a big smile. Emelia, too can climb like a monkey. Without fear and desperate to get as far as she can - brilliant to see Emelia.
As a teacher of a new class, problem solving is a bit like sitting back and being engrossed in your favourite soap: fascinating to watch and you cannot take your eyes off of it! The children did struggle to communicate and work together at first but with some encouragement and collective togetherness, they achieved more than they thought they could! We failed and failed again but that made it even sweeter when we finally managed to get the tennis ball from one end of the field to the other through pipes without it hitting the floor and into the tin can. Winners! Jack deserves a special mention for his calm tone and leadership of others to successfully turn the tarpaulin over without anyone stepping off of it!
There was a buzz around the lunch tables, which was fuelled by the impending visit to the shop. The option of fish fingers and chips only added to the delight amongst the children. The food at PGL really does give the children every opportunity to supply their bodies with the energy needed to give it their all.
When I was handing out the purses and wallets it was lovely to hear that the children knew where their money had come from. Not only adults at home but other family members and piggy banks and even a family friend. After a short FAQ session about shop etiquette, the children were released! I am very pleased to say that they have made some very sensible choices and their mental calculations were accurate. Their teacher must have been excellent: well done Mrs Laurie! All the children have money remaining in their accounts for round two, which is tomorrow. Also, as always, some 'Millions' were spilled by a couple of children en route from the shop back to the cabins. Did the children kick up a fuss and get upset? No they did not. Well done Class 5.
The giant swing. The. Giant. Swing. Now, I throw myself into the week of PGL every year but last year the giant swing left me as a shell of my former shelf and I embarrassingly I needed to lay down in a quiet room afterwards. Needless to say, I was devastated when I could not have a go on it this year. However, your children, on the whole, thoroughly enjoyed the experience! While Daniel's shoe was flying off into the bush on the giant swing, Mrs Laurie and her group were navigating their way around the site in orienteering. When the first activity in the afternoon had ended, Mrs Laurie and I swapped groups for the remainder of the week.
In the first session with my group on the giant swing, Jack went further than he ever thought he would do and he will look back on that and feel very proud - well done that man. While in orienteering, Freya, Joe and Erin stood out from the crowd due to the fellowship and fantastic listening skills. Those are two skills which make me and Mrs Laurie exceedingly proud. Superstars!
After the transfer of Grinham for Laurie was complete, I had the pleasure of seeing the children working hard together to pull the rope and get the children in position high up in the sky. Freya's screams as she flew down on the swing will still be ringing in my ears well into next week: she certainly enjoyed it! Charlie showed maturity beyond his years when thinking of others within the group. Furthermore, Charlie must be strategically plotting for the shop visit tomorrow as he only window shopped in our first visit. Be prepared the Burridge family!
Over at Orienteering, Ethan's map skills, drive and leadership were spot on which made the activity a doddle for his group to get around the site with ease. Gold star.
Evening activity: Snap Shot
In groups, the children were hunting around the site attempting to locate specific points which our groupie had given them. There were hundreds of other children on the site playing similar games and I must say that the behaviour and common sense of our children was far superior than some others.
Another day in paradise with clear blue skies, hours of sunshine and action packed with activities. So much so that at dinner we were discussing the day and we could not even remember what we ate for lunch only 5 hours previous. The here and now of PGL has taken over!
Day Two: Tuesday 17th September 2019
It is fair to say that we had quite a settled first night in Nova Scotia. The 6:40am wake up call was a little it surprising for some rooms; others had already woken and were amusing themselves. The children have settled well into a routine and I don't think they'll enjoy leaving on Friday!
The benefit of 7am breakfast is that we are first in the hall - this ensures that we had a nice quiet start to the day. Some children enjoyed bacon and mushrooms while others ate some cereal. The food is a highlight of the trip for many children and they are all finding things that they enjoy. The catering staff are being very helpful too. Sadly today, we had to use plastic cutlery as there was a fault with one of their machines. One child from Class 5 mentioned, 'If my mum saw me eating food with plastic cutlery, she'd make me use my hands!' Moments like that just make you smile. I had yet another positive comment about the kindness and attitude of the children from one of the catering staff who commented on how polite they were. All adults at home, take a bow. They are a lot of fun yet mindful and very aware of their audience. Mrs Laurie and I are having an excellent week.
The inspections were more positive this morning - progress! The cabins are quite close in points at the moment and bonus points will make all the difference! We are now seeing children, independently, empty the bin from their cabins. Their eyes are on the prize come the end of the week!
Kayaking was our morning activity this morning and we were all together as a class in the bright rays of the September sunshine. We have been blessed. Kayaking is quite a strenuous activity and the children definitely earned their lunch. The tide was quite strong but many of the children were courageous and determined. James made mine and Maddi's life - in a three person kayak - very enjoyable. He showed fantastic fellowship to turn and move the kayak through the water. I was very proud of him.
After a slow meandering trudge back to the site, the children fought their way out of their wetsuits - easier said than done for some but mildly amusing to watch - before inhaling their lunch like vultures! Coronation chicken, chilli or pizza was the main order of the day. Needless to say that there were plenty of polished plates by the time we had left.
Thankfully, then the children had some downtime and the opportunity to shower after kayaking - this was much needed but at that point, little did I know that tonight there would be a heavy downpour in a mini micro-climate that is PGL Little Canada. More of this to follow...
The afternoon was a real pleasure. Aeroball followed by climbing. Both of the instructors for these activities, I felt, just completely clicked with the children: relationships are key! Both Tyler and Jodie supported the children and pushed them to be the best they could. Darcey's high-score of 14 was phenomenal and it will take some beating - as will the subsequent vocal celebrations but they were richly deserved! Impressive. I don't think that I have ever had such a successful and positive climbing session. The children were like superheroes scaling a building. There were some fantastic races and to have the opportunity for me to race Jack up the wall was too good an opportunity to turn down. He pushed me all the way and should feel very pleased with the confidence that he gained. After watching Sophie and Islay reach the summit within a whisker of one another, it was time to head for dinner.
Routines are so important so I feel I must apologise if the children return home expecting to ask for a hand sanitizer dispenser pump, question where the food menu blackboard is, or demand jugs of orange squash on request. Chicken nuggets and chips satisfied the majority with a lasagne or kiev option instead. The iced cake was a nice touch for pudding. On a side note, two of our girls, found and spoke to a boy from a different school, who they knew from when they were a baby. The boy's teachers, also knew about the link so he must have also previously mentioned it in excitement.
Room expectations with a twist tonight - as well as the normal 10 points that was available, an extra maximum of 10 points was made available for each cabin. They needed to use their cuddly toys and create a scene in an arrangement within their cabin enjoying PGL based events or activities. There are some photos in the gallery. There were some really imaginative and original ideas. I was disappointed that there were not two cuddly toys imitating two suitcases being exchanged but the time zone in PGL means that yesterday now feels like last week and we are slowly losing track of which day it is!
The saying goes that teaching is all about inspiring children and finding a hook to engage them with. It seemed that allowing the winning team of the evening activity tonight to throw water balloons at me from point blank range did that quite well! I have never seen them move so fast! I got wet and they laughed a lot. I must say that covering my eyes, when Luke catapulted, what seemed like a delivery from England fast-bowler Jofra Archer directly between my eyes, was one of my wisest decisions to date! Thanks Luke. I think!
The children dozed off quickly tonight and I think they'll be thankful of that come tomorrow.
Thank you for all of your support and I hope you are having a quiet week!
Day One: Monday 16th September 2019
Welcome to the first instalment of the PGL residential 2019-20. When we left school this morning, I did not expect to be seeing one of you twelve hours later exchanging suitcases in the dark and that is why the PGL trip is so special: the children - and some parents and teachers - will make memories to last a lifetime. I have seen many things on PGL trips but they continue to surprise me. I love my job!
We have enjoyed such a lovely first day. All of the children were so keen to explore the ferry that the whole class wanted to go up onto the top deck so we went in shifts. A member of the public commented to me personally on how polite the children were when thanking people for waiting while we climbed the stairs. Your children are role models.
The sugar intake seemed sensible on the journey to Little Canada and the coach trips were swift. The children showed fellowship in transporting the luggage to and from the coaches and were in very good spirits.
Upon arrival at Little Canada, the children were raucous. It was lovely to hear how excited they were about being on the site. After devouring their lunch and repeatedly forgetting to pick up bags and water bottles as we were taken on a site tour by our PGL groupie, we headed to the beach.
Your children love a beach. We could have honestly stayed there for hours so much was the natural awe and wonder of the world around us. The collection of beach related paraphernalia led to full pockets - apologies for sandy clothes and shell related gifts! The children took well to the task of designing a
self-portrait within 10 minutes. The attention to detail that Caitlin and Islay showed (see photos in gallery) was very impressive. True works of art and other artists used their imagination in their own creations. Can you spot Mr Grinham and Mrs Laurie amongst the artwork?
Our PGL groupie then led us on a hunt to find rare Isle of Wight blue stone. Seb was the first to rummage around and find an example of the small blue stone: it did not take him long at all! Well done Seb - you made your class mates very jealous and it spurred us on to find more.
When we arrived back on site, it was almost time for our first PGL meal. Our dinner is scheduled for 5:30pm each day. Most children settled for sausage and mash with a splattering of peas as well as helpings from the salad bar. The children ate well and showed good table manners - well done Class 5! I can also say that the doughnut for pudding was delicious. Luke exclaimed that Zachary would be jealous.
The dreaded first room inspection followed dinner. With folded wet towels, messy floors, unkempt duvets and insufficient use of storage, there is room for improvement! Let's see what tomorrow morning brings.
The children participated well in the first evening activity of wacky races. Memorable highlights included Maddi flossing like her life depended on it and Luke performing a step perfect rendition of 'staying alive' by John Travolta. The dedication that these two showed made for some fantastic viewing.
Mrs Laurie read the children a bedtime story and all of the rooms were silent just after 10pm - not bad for a first night. The 6:40am wake up and 7am breakfast tomorrow before kayaking all morning in the sea will demand some courage from this fun-loving bunch. Wish us luck!
Your children have been a delight to be in the company of and they have made us laugh lots. Meanwhile, the master key has already been used to locate a set of keys left in a cabin and I have already experienced the first aid room. Just another day at PGL!
The first day is always a tiring one for everyone involved - I look forward to sharing experiences and making many more memories in the coming days.
Head into Gallery and PGL for images from each day.
---
Welcome to the Class 5 section of the website. After enjoying a lovely summer, the new Year 6 children have made the first couple of days very enjoyable so thank you. We have had a very productive couple of days: we have created and implemented our new class charter and I am sure the children are excited to show you that later on this half term in the Celebration of Learning; we have been refreshing our Maths knowledge with focused session on Times Table Rockstars and arithmetic; and writing letters to me applying for the vacant positions within Year 6.
Please find the welcome letter at the bottom of the page. There are some key reminders and messages, which are stated below:
The expectation is for children to read for ten minutes each night - the quicker this is embedded, the better. Reading Records will go week beginning 9th September and responsibility is that the children have ownership over recording new vocabulary from their books - new language is critical to developing comprehension and writing
Children need to bring a water bottle into school with them every day: organisation is key
PE will be on Tuesday and Wednesday: PE kits should come in on Monday and go home every Friday
We are always keen for volunteers to come and support learning within our school - any time you can offer to hear children read is so valuable and has a huge impact. Speak to myself or Mrs Fox in the office if you are interested
Use the link below to see panoramic views of the PGL site - click on the image half way down the page. I have shared this with children as it is important for them to be able to visualise where they will be sleeping and staying on residential.
https://www.pgl.co.uk/en-gb/adventure-holidays/centres/little-canada
I look forward to seeing many of you on Wednesday 11th September at 3:40pm for the final PGL meeting or on Thursday 12th September at 7pm for the Parents Presentation Evening.