Otter Class Y1/2
In Spring Term we are launching our topic called The Titanic! You can find out more information in our Topic Overview below.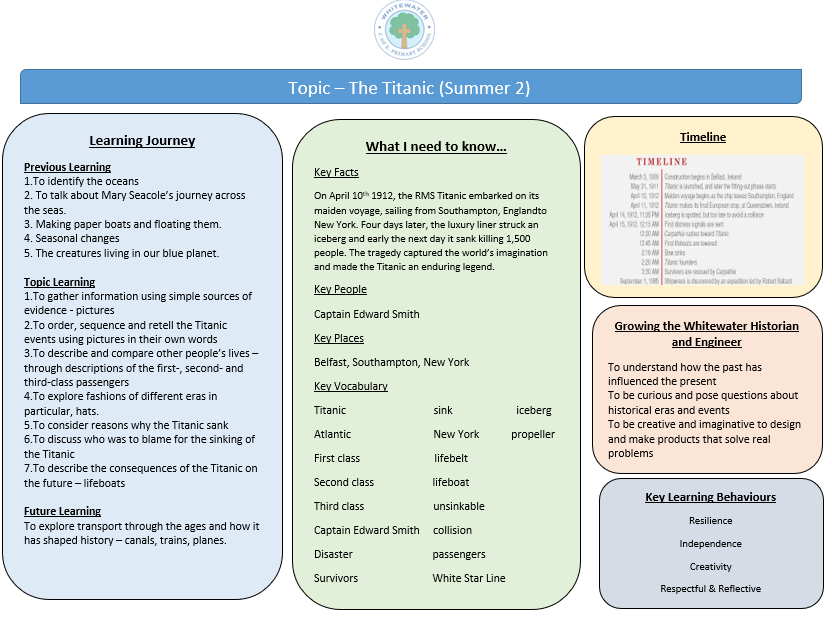 Otter News (17th June, 2022)
Rabbits Class have been amazing coping without Mrs Jolliffe! Mrs Hairsine and the team have had a fun filled couple of weeks and have continued to learn loads! Despite being upset in missing out, Mrs Jolliffe is very proud of all of her Rabbits.
The children in Rabbit and Otter Class returned rested and raring to go for our final half term and we all enjoyed sharing our own Jubilee Celebrations. We kicked our topic off by finding out what the Titanic was. We used photographs to predict what had happened to it and have now begun finding out about the Titanic's timeline of events. We have tried drawing it and have lots more planned for the coming weeks. The Titanic theme continued in English as we are writing about a mouse called Samson, who was a passenger aboard the Titanic.
Rabbit and Otter Class were very excited to meet a real-life local marine artist on Tuesday! Len Murrell visited to share some of his incredible oil paintings. He talked about how he had started painting when he was 50 years old having also been in the Royal Navy. Len's love of boats and ships was very obvious as they feature heavily in his work. The children loved seeing his paintings. Favourites were the War Ships, the Titanic and the ones with familiar buildings such as Windsor Castle in the background. Everyone had a go at drawing a rowing boat which we all agreed was not as easy as we thought; everyone was in the Learning Pit! Like true artists, we persevered and showed our resilience. We hope that Len will visit us again before the summer, so that we can all join in and paint a boat alongside him.
We are so excited to have five caterpillars! Although very small now, we shall watch them grow and follow their life-cycle. Hopefully, we will release Painted Lady butterflies before the summer holidays! Rabbits have some too so the race is on to see which ones hatch first!
We hope to begin sewing our own sea creatures next week. If you have any old tights or stuffing scraps we can use for stuffing, we would be very grateful!
Otter News (20th May, 2022)
I have been so impressed by the resilience shown by Otter Class over these last 2 weeks. We began by attempting to fold and then float paper boats. The instructions confused Mrs Rolph but we all got there in the end – after a number of 'in the pit' moments from us all! Not surprisingly, our boats quickly sank but we all took new dry boats home. A big thank you to Maggie who became our 'Master boat builder' and helped her friends which was a great help to Mrs Rolph. Next, we folded and flew paper planes which were much more successful! We have written stories about where our planes flew to, as well. This week, we have been writing diary entries and descriptive settings about a boy who found a whale on the beach and took it home to his bath! Look out parents if you are visiting the beach soon! In maths, we have started to learn about tally charts and bar charts, and we are loving our topic work as we explore different seaside places and their habitats. We have welcomed 10 new baby stick insects and enjoyed discussing the size of their 'poo'! We've also been busy with algorithms and using oil pastels to draw flowers in the style of Georgia O'Keeffe. Our Year 2s have impressed me with their calm positivity in working through our SATS 'quizzes' and I am very proud of them all. One more busy and exciting week before half term! We will look forward to seeing you at the Jubilee.
Otter News (6th May, 2022)
Otter Class have had a fantastic start to this Summer Term. Our Year 1's were very lucky to go on mini buses to Queen Mary's College Science Centre. They were able to share with everyone what they had found out about mini-beasts and pond dipping. Did you know worms only have one head, not two!
This week, we all went on a fancy coach to Blue Reef Aquarium AND explored Southsea Castle. Everyone behaved and thoroughly enjoyed themselves. It was a busy day, we were surprised only a couple fell asleep on the way home! The castle's cannons were huge and many of us enjoyed pretending to fire them. The sea creature favourites were the puffer fish, turtles and sea horses. We loved getting splashed by the rays and were rather disappointed that the sharks were so small! However, we have learnt lots about sharks and are busy creating fact-files for you to enjoy.
We are busy counting in twos, fives and tens after a tricky week dividing which had us all in the learning pit! We have continued to show how well we are doing in phonics and are loving our Science and Geography lessons exploring seas and habitats. Planting sunflowers for Ukraine has been fun and we will look forward to comparing whose grows the tallest! Let's hope the sunny weather arrives to please us all.
Otters News (8th April, 2022)
It has been a very strange end to the Spring Term for Otters as so many of us have been unwell with Covid. Mrs Rolph was very grateful for all the hard work that Miss Hairsine, Mrs Wood and Miss Miles did to look after and teach those Otters who were in school. Everyone worked so hard, Mrs Rolph is proud of everyone's positive resilience. We have made our own impressive 3D castles and written glowing Estate Agent reports to sell them! In maths, we have learnt about money and what different coins represent. We have been learning to multipl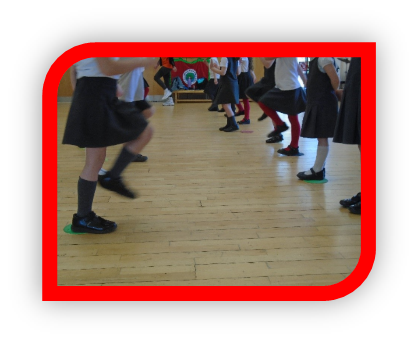 y too – tricky stuff!
We thoroughly enjoyed our Drama workshops and learnt a Dragon story and dances. Visiting the Church for an Easter Walk helped us to remember the Easter Story and the Easter Worship service was very special. Our dress up day and Medieval banquet was a big success, thank you for your support with costumes! We have another exciting term ahead along with our school trip and hopefully, lots of sunny weather. Have a wonderful Easter break, stay well everyone!
Otters News (18th March, 2022).
I have been very proud of the work Otters have been doing. In maths, we have learnt about 2D shapes and had fun spotting them and creating our own shape pictures and patterns. We took part in the Hampshire Book Awards, where we read 4 story books and voted on our favourite. Winning by a large majority, was 'The ABC Factor' by Katrina Charman. We have also been busy writing letters to instruct RAF Odiham on what they need to do to catch the River Dragon – recently sighted over the River Whitewater. Don't worry, Otter class are certain we are all safe! We have had fun in music with Miss Hairsine and are busy learning about plants with Mrs Wood. It is Science Week this week and we have noticed lots of signs of Spring. We also enjoyed our visit to the Church for Worship and spotted even more flowers, blossom and even a tank of fish! What a busy time!
Otters News (4th March, 2022)
Otters all returned this week after a well-deserved rest and were raring to go! Before half term, we had fun making paper which was very exciting – especially the glittery pages! We learnt about the Jewish faith through Rabbi Solomon's visit and we completed our reports on the Queen, showing how much we have learnt. This half term is all about Dragons and Castles and we were super excited to find a nest of Dragon's eggs in our classroom. We have found out about many types of dragon and have invented our own. In maths, we have all been 'in the learning pit' and shown resilience as we explored counting on and back across the 10s.
Otters News (11th February 2022)
Otter Class have shown great resilience these last two weeks. We have been working hard on our Phonics through Little Wandle which has been an exciting but steep learning curve for us all – especially Mrs Rolph! We have now got the home reading set up too and look forward to hearing how it is going at home. In maths, we are adding and subtracting using number lines and learning to jump on or back in numbers bigger than one, using our number bonds knowledge. We have enjoyed finding out what happened to the Queen's knickers and all wrote a news report for the 6 o'clock news. Our Safer Internet Day was fun with lots of discussion about what is safe to share online. We hope you enjoyed seeing your children's work. We have so much more to cram in before half term – including a Drama workshop and a visit from a Rabbi!
Otters News (28th January 2022)
Otter's class have had an enjoyable couple of weeks. We found out that the Queen's hat had travelled all around London. We wrote diary entries as if we were the Queen, describing our favourite parts of the journey. Many of us chose to write about the last part, when the hat landed on a baby's head. Next week, we shall find out about the Queen's Knickers!
In maths, we have explored the pattern between numbers and created number sentences. We have been adding and subtracting using number lines too.
We have enjoyed exploring different materials like plastic and metal, especially as we also had fun stretching, bending and twisting play dough!
As part of Collective Worship, we have spent time talking about Martin Luther King. Mrs Rolph has been impressed with Otter's compassion and their desire that everyone should be treated equally.
Our time with the poet James, was amazing! We all enjoyed the day. We wrote a class poem together called Cranky Creatures, which we performed to the school, and wrote our own Happy poems too. These will soon be displayed around school and in our classroom on our Otterly brilliant work display!
We are looking forward to another busy and fun couple of weeks, with a greater focus on phonics and reading.
Otters News (14th January 2022)
Otters class have had a fun first two weeks settling back in and getting to know Mrs Rolph. They have all enjoyed talking about Christmas and sharing stories about pets. They have met the new class pets - stick insects! They have begun to find out about the adventures of The Queen's Hat and have sorted materials depending on whether they are hard, soft, natural or manmade. Mrs Rolph has been so impressed with the children's friendly manner and positive attitude to learning.
Other Important Information
Staffing
As you are now aware, Otters Class is taught by Mrs Rolph and supported by Mrs Miles and Mrs Baronne. Miss Hairsine will teaching Otter class for half a day on Thursday and Friday mornings, providing class cover.
Homework
Learning out of school is vital to developing successful learners. We have looked at the engagement throughout last term and made some slight adjustments as a result. We have made the decision to change how we set homework and how you can submit the work. With the purpose of making homework more accessible, we are providing the children with homework books and hard copies of the set homework meaning that we rely less on Seesaw.
We want homework to be engaging and purposeful so that it consolidates the learning from the classroom. We also want it to be manageable as we appreciate how busy home life can be.
Homework will be sent home on Fridays and collected in the following Wednesdays. For Otters class, the homework consists of:
Daily reading for 15 minutes. This will be linked to the Phonics work
Maths once a fortnight
Writing once a fortnight
PE Kit
There will be two sessions of PE per week; one indoor and one outdoor session. These are planned for Monday and Friday, however we do expect all pupils to bring in their full PE kit on a Monday and take it home on a Friday as there may be additional opportunities for PE presented through the week.