Living our Values
Clean Air Scooter Challenge (17th June, 2022)
Thank you to all the children and parents who took part in our Clear Air Scooter Challenge this week. It was wonderful to see so many children scooting, cycling, skating and skateboarding to school along with their parents. Some children were cycling from home, not just from the village hall! We are sure we have some very fit parents and children now! Our Junior Road Safety Officers along with the staff at the school were all very impressed with the effort made. We do have cycle racks outside the front of the school if anyone wants to continue coming to school this way and there is a space there for scooters too. Well done to the children who designed the banner outside the school to celebrate Clean Air Day. It looks amazing and is all the children's own work.
Sunflowers (20th May, 2022)
Back in March we had a 'Sunflower Day' to show our support for the people of Ukraine who were, and continue to, experience a terrible situation. I shared that we would be planting sunflowers when the weather allowed us to do so. I'm delighted to share that yesterday the sun shone and we embarked on a whole school planting session outside.
Thank you to Mrs Sykelmoore and Mrs Hunt who volunteered to arrange and lead the activity. Every pupil will be bringing their sunflower home today for you to plant at home. Thank you very much to everyone who helped out this fantastic display of fellowship and creativity. The teachers are looking forward to seeing your pictures on Seesaw of you sunflowers growing.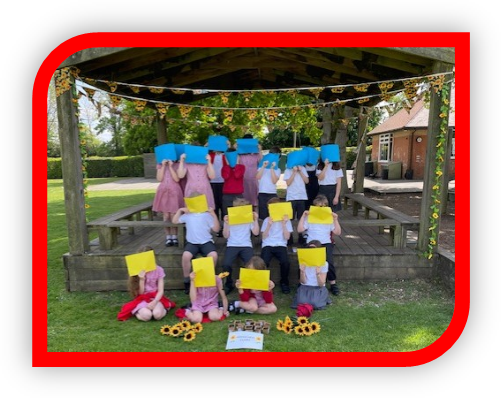 If you're anything like me, you may have no idea how to ensure your sunflower grows to be nice and healthy. Mrs Sykelmoore has kindly provided the following advice:
Keep your sunflower inside on a sunny windowsill. Remember to keep moist and within a week you should start to see your sunflower start to grow. Water as required. Then, once they are big enough plant them outside (including the pot!), a great time to do this would be in May half term when there is less chance of a frost! Your sunflower should be in full bloom in August so you can enjoy it during the summer holidays!
This is particularly good timing as we have some very special new pupils joining us over the next couple of weeks. Several kind and generous local people have become hosts for families from the Ukraine. As a result, their school age children will be joining us at Whitewater. I can only imagine how difficult it must be to leave your country of birth at such a young age and travel to a different country so far away whilst speaking no English. I'm absolutely certain that you'll all join us in welcoming our newest additions by showing the same warmth you extended to us when we joined your wonderful community.
Spring Term Role of honour (8th April, 2022)
On the final celebration assembly of each term, we ask staff to select one child in each year group for a 'Values Award'. This is a very special award for a select few children who demonstrate our school values of Fellowship, Creativity and Courage without fail. In recognition of their achievement, the children get a Values Award badge as well as a certificate. In the summer term, we will be taking these children out for a special treat.
The winners of the Values Awards are:
Year R: Lucy N Year 1: Harriet L Year 2: Darcy B Year 3: Olivia L
Year 4: Isla H Year 5: Ethan H Year 6: Chyna B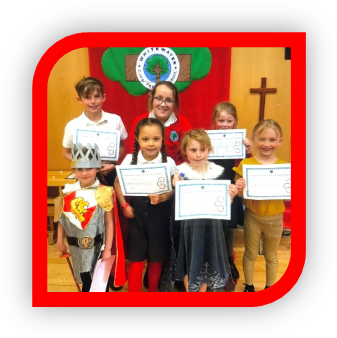 Red Nose Day (18th March, 2022)
Thank you to everyone who gave donations to support Red Nose Day. I know we very recently asked for support for the charity Sunflower of Peace also. At a time when energy prices, National Insurance Contribution and the price of petrol are all having a squeeze on finances, the Whitewater community has come together to generate £301.10 (£101.10 for Red Nose Day and £200 for the Sunflower of Peace) for two very worthy causes. This is a wonderful example of fellowship and compassion towards others. This is something that we don't take for granted and it makes us proud to serve such a special community.
Walk on Wednesdays (4th March, 2022)
Our Junior Road Safety Officers recently led a whole school assembly. They shared with children the benefits of walking to school which include reducing pollution, making a positive difference to climate change and living an active and healthy life. So, we are trying to encourage everyone to 'Walk on Wednesdays'. For those who walk everyday, keep it up. For those who live further away and need to drive, try park and stride…you can park further away from school and walk the last bit. Let's all give it go!