Fox Class Y5/6
Here is the Learning Overview for Summer 2, 2023:

Fox News (26th May, 2023)
This week the Year 6s have gone on PGL so it has been nice and quiet in our classroom. The Year 5s have done:
The Galapagos Islands; we have discovered that they have many different species. Here are just a few: Blue-footed boobies, Red-footed boobies and marine-iguanas. We have also written about the landscape of the Galapagos islands; lava piles and shield volcanoes.
We have also been making origami turtles - they turned out pretty good! Skyla even made a turtle family consisting of a mother, a father, three children and a baby.
On Tuesday, we went to Lyde Green Farm. We really enjoyed the experience! We got to go into a field full of cows and decorate a bottle and fill it with a raw milkshake of our choice. The flavours were: chocolate, salted caramel and banana. Just before we left a calf was born and we got to see it!
We got to do a bit of Forest School. In Forest School we built nests in groups of 2s or 3s. Mr Ralph judged them; the winners were Seb and Yehor! We also had some yummy s'mores!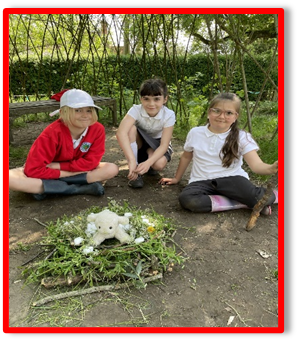 On Thursday, we wrote a recipe…BUT! It wasn't a recipe for food, it was a recipe to make a Forest School. The ingredients were what we need for a Forest School and the method was the different activities we could do there.
This week we also did some Maths; equivalent fractions, time, percentage and decimal equivalents. It was challenging – but we got through it! If we were stuck, we asked someone who had already done it and they helped us.
On Friday, we wrote some community letters as an act of kindness, we put teabags in the letters so they could have a free cup of tea. After half term we are going to put them through letterboxes in Rotherwick.
We would like to thank the four people who made what we did possible: Mr Ralph, Mrs Brett, Miss Ouazzanni and Mrs Nicholls.
By Sebastian and Isla - Year 5 😊
Fox News (5th May, 2023)
We've had a busy start to summer term in Fox Class. The children have very much enjoyed reading 'The Forbidden Forest' chapter from Harry Potter and using this for inspiration for writing their suspense stories – the children worked extremely hard to use skills which keep the reader on the edge of their seat. This week, we have begun the terrible tale of Macbeth. The children are looking forward to discovering how the story ends. The children have decorated their writing books with ghastly illustrations – fantastic!
In Maths, both Year 5 and Year 6 children have been working hard on increasing their accuracy and consistency in their arithmetic and learning about reading and interpreting different forms of graphs and charts. In Art, we have been very excited to begin learning about Frida Kahlo and the art movement 'surrealism'. The children have built confidence in drawing accurate portraits in the style of Frida Kahlo. Over the next few weeks, they will work on their self-portraits. Over the last week, the children have been working so hard on their auditions for the end of year production. Mrs Taylor and Mrs Elie were thoroughly impressed and had the very difficult task of allocating the roles. Full of excitement, the children now know their parts – we know everyone will be fabulous in the show. To celebrate the coronation, the children enjoyed a small party yesterday in class – we are all excited to celebrate on Saturday.
Next week, Year 6 start their SATs and wish all the children the very best of luck!
Here is the Learning Overview for Summer 1, 2023:

Fox News (24th March, 2023)
This edition has been written by Tilly, Lilly B. and Hanna
These last two weeks, Fox Class have been up to lots of exciting things. In Maths the Year 6 have been working on ratio while the Year 5s have been practising their place value skills. They have both been super resilient and worked hard.
In English we have all been planning and writing survival guides based on our class novel 'Holes'. Fox Class have used model verbs in their writing to inform the reader that this step to survival is necessary.
Our topic in Art is Earth and Space. We have been working towards a collage of the galaxy using many different techniques like watercolour, chalk, pastels and marbling. Foxes have been looking at making a 2D circle into a 3D sphere using blending.
In RE we are looking at the Easter story and how Jesus died for our sins and the reincarnation of him. We are also looking at different interpretations of how Jesus looked. As we don't know exactly what he looked like, the only evidence that we have are paintings but as they were all different the children chose their interpretations of Jesus.
On Friday 17th of March, the school celebrated Red Nose Day, Foxes did many different activities related to Comic Relief including dressing up in red clothing to raise money for the children in need. The school has raised £373 in total.
In PE we are doing dance with our topic being earth and space and we have been dancing to the theme tune to the original Star Trek.
On Monday 20th March, KS2 were privileged to meet an awesome explorer, James Ketchell. He talked to us all about some of his greatest adventures: rowing across the Atlantic Ocean, climbing mount Everest, cycling through many countries and many more. Foxes got an opportunity to talk to James and find out about what he had to do in his expeditions in a workshop. Everyone loved it and enjoyed getting some new things.
Fox News (10th March, 2023)
This edition's article was written by Bertie and Seb
Foxes have been busy again these past two weeks. We have done some formal writing in English (a formal non-chronological report) about fictional lizards. Our aim was to improve our formal language vocabulary and to sound like an expert on a subject.
In reading we have been working on a book called Wonder by R. J. Palacio. We have been looking at how to figure out a character's feelings from a paragraph. As well as answering 3-mark questions.
In Maths we have been doing arithmetic tests and practice SAT's, ready for May. We have done many other topics in Maths: co-ordinates, reflection, column addition and angles.
In our Science Topic we have been learning about space. These are the activities we have done: writing a fact file about 4 planets and finding about orbit and rotation. We are also creating a dance about space!
Miss Ouazzani has started to hand out pen licences. There are 3 types: learner, full and special. We are all trying extra hard to earn a pen.
Thank you for reading
Here is the Learning Overview for Spring 2, 2023:

Fox News (3rd February, 2023)
Written by Holly and Jasmin.
The last couple of weeks foxes have been very busy in Maths, English, Science and Topic. We also had an extra special performance from our JRSO's showing the dangers of the road and how to stay safe.
Last week, in Maths, we were learning about perimeter, area and volume and finding these from shapes. We're measuring obtuse, acute and right angels with protractors in our maths lessons along with estimating the degrees of many different are in various angels. In Arithmetic, Year 6's are doing challenging work that contains: multiplying decimals by whole numbers and finding the percentage of 2-3 digit numbers. Year 5's are also working really hard by doing: adding decimals, adding fractions and times table work.
During these last few weeks in English, we have been re-writing Charlie and the Chocolate Factory so far in our re-write we got up to doing three of the main characters named Veruca Salt, Mike Teavee and Charlie Bucket and their description. Another fantastic book we read was called 'Rose Blanche' it was about WWII and concentration camps. We had to describe one pictures that showed little children stuck in a concentration camp
In Science, we have been designing and making parachutes out of home supplies the most used items were: plastic bag, string, bottles, and paper cups. All of Fox Class really enjoyed testing their parachutes in the playground and in the classroom.
In Topic, we have been learning about WWII and how people lived during the Blitz. We also were talking about what Hitler did in the war and what happened to Jewish people during this time. The class were surprised when the teacher suddenly played the air-raid siren alarm and hurried us under the tables.
Next week, we very much look forward to making our Henry Moore sculptures from clay and painting them.
Fox News (20th January, 2023)
Happy New Year to you all. In Fox Class, we have had a very busy start to the new year. We have begun the New Year with our topic of World War Two. The children have been very excited to start this topic. We have created timelines and considered the question 'What makes a good leader?' We started the term reading the book 'Once' by Morris Gleitzman. The children have worked hard learning about refugees and writing their speeches on homelessness this week. In Maths, we have begun learning about measurement, looking at converting units of measures and how to calculate perimeter and area of composite shapes. The children are looking forward to designing their clay sculpture in art. In science, they will be making their own parachutes to help them learn about factors that affect air resistance. The children are very much looking forward to testing them next week. In our next instalment from Fox Class, we will be back to hearing from the children themselves.
Here is the Learning Overview for Spring 1, 2023:

Fox News (2nd December, 2022)
This week's Fox Class update is brought to by Evan and Daniel:
Over the past few weeks, Foxes have done many fantastic things. For English we have been writing about how Santa Claus really works. We have answered lots of baffling questions about this and we are now hoping to make it into a book.
For Maths we have learnt about adding and subtracting fractions and done a few arithmetic and reasoning tests (practice for SATS in May).
For reading we have read a famous book called the Lion the Witch and the Wardrobe and completed a reading practice SATS.
In French we have been learning about healthy food and learning how to say the different names and determiners.
In PE we have been creating Viking themed drama and dance. We have also been doing cricket on Monday afternoons.
For topic we have finished learning about Vikings and had an entire Viking day where we dressed as Vikings and did Viking related activities. He even let us hold his weapons!
In music we have been learning about the different music notes and seeing how many beats they have. Also, we have been making our own rhythm with our hands, our mouths and glockenspiel.
We are continuing to do Christmas related things as we get closer to the holidays and are all excited about what is still to come.
Fox News (18th November, 2022)
This week's Fox class update is brought to by the lovely Tilly and Lilly B.
These last two weeks, we have been doing many exciting things….
We have been writing our very own Saga of Bjorn. We are all very proud of them and loved creating the battle scenes and unexpected plot twist! Now, we are looking at a book called 'How Santa Really Works' by Alan Snow. This is a really fun Christmas book and we can't wait to do more work on it.
In maths, we have been learning and improving our skills in division and fractions. Year 6 were working on long division whilst Year 5 were learning short division. Another fun thing we have been doing in maths is fractions. We have been using our times tables knowledge to find common denominators and fraction of number.
We have been reading the start of 'The House with Chicken Legs' and have begun looking at a classic: 'Narnia, the Lion, the Witch and the Wardrobe'. Both books have been very interesting and hooked us in. We have loved reading them. During this time, we have worked on our inferencing skills and answering test type questions too.
In topic and art the past few weeks, we have been learning about the vicious Vikings. We have looked at where the Vikings originated from and where they invaded. We have designed our own longships based on traditional Viking ships – they all look amazing! We have also been practising the effect of light on figureheads using shadow to help us. We have had lots of fun exploring this topic so far.
Here is the Learning Overview for Autumn 2, 2022:

Fox News (14th October, 2022)
This week's roving reporters are Tilly & Isla
These past two weeks, Fox Class has been up to a lot of fun things. In maths, we have been investigating different types of numbers (prime, factors and multiples). We even got to rap about them!
For English, we recently finished writing biographies about a famous person of our choice (we had five choices: David Attenborough, Tom Holland, Queen Elizabeth II, Stan Lee and Mary Seacole), which was very exciting. We have now started to create stories based on our class novel The Nowhere Emporium.
Fox Class have also nearly finished their volcanoes for our topic! We are hoping to explode them next Wednesday after we paint them on Monday. We used plaster of paris and papier mâché to shape them and then left them to dry overnight.
This week in Reading, we have been looking at the first few chapters of Beetle Boy by M.G Leonard. We have been discussing the word choices used in the text and have been learning to justify our answers.
In PSHE, we have researched P4C (Philosophy for Children); for example, we went in to the hall and each chose an item from various items. We then talked about why we chose our object and explained to the class.
In RE with Mrs Rolph, we have been learning about the Muslim religion and 'belonging'. We have talked about the Five Pillars of Islam: Shahada-belief, Salat-prayer, Zakat-charity, Sawm-fasting and Hajj-pilgrimage. Also, we discussed the meaning of belonging and how it relates into our lives.
Also, a big thank you Miss Ouazanni and all the other teachers and helpers in the school for putting on an amazing first half term for us. We really appreciate your help and thank you for always making our lessons fun and enjoyable.
Fox News (30th September, 2022)
There's been a change to how we share what's been happening in Fox Class. This year, we've asked some children to write this section of the newsletter. This week's roving reporters are Ethan and Freya…
We are having a wonderful time in Fox Class and these are the things we have done so far:
In Writing, over the last couple of weeks, we have been doing a non-chronological report on dragons as well as instructions on how to fly, tame or look after our dragons. We have just started doing a biography on a famous person. In Maths, we have been doing decimals, rounding and the powers of ten. Now, we are working on our column addition and subtraction. In our Reading, we have been pretending to be crayons from the book: The Day the Crayons Quit. Then, we started writing about Pompeii. Our Topic so far, has been based on Volcanoes and Earthquakes. In RE, Foxes have been talking about belonging and what it means to them. For Heartsmart, we've watched videos on how to have a happy heart. So far in Science, we have been experimenting with materials and properties – we have tested to see which material is the most absorbent, flexible and insulating.
We are really looking forward to continuing tag rugby in P.E. and building, painting and exploding our volcanoes before half-term.
Here is the Learning Overview for Autumn 1, 2022: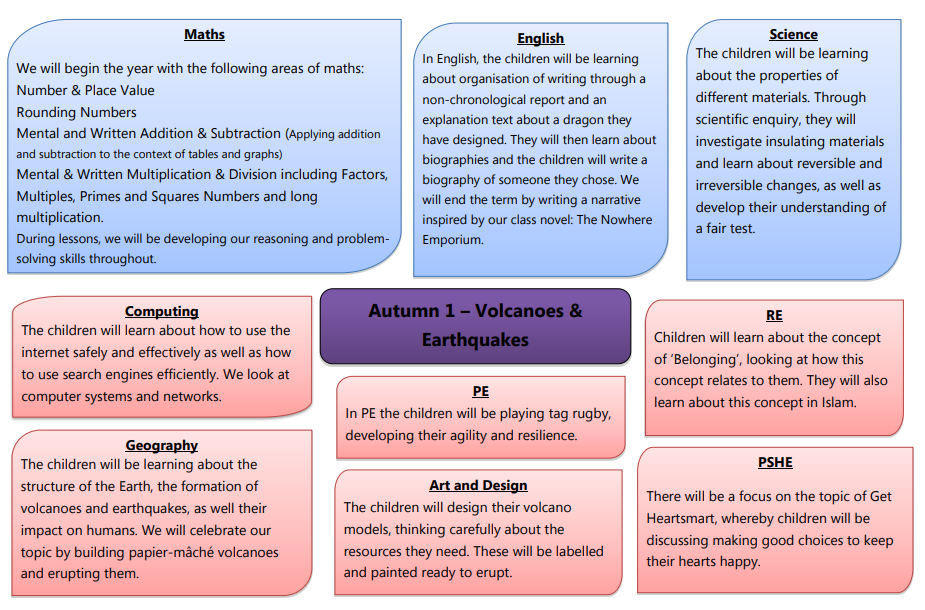 Fox News (1st July, 2022)
Since re-uniting Fox Class after the residential, attention has been turning towards the end of the year. The children have been working hard on their final pieces of writing based in Neil Gaiman's "Wolves in the Wall" book. There have been all sorts of animals appearing from all areas of the house. Beware of flamingos in your attic!
Afternoons have become key rehearsal time for Robin and the Sherwood Hoodies production. Fox Class have been busting their moves with dances, singing like angels and making sure they face the audience when speaking! We have also had the paint out again as we gather and make our props including rubber chickens, feather dusters and an entire squisher.
The end of this week we have seen the Year 6 children depart for their transition days at Robert Mays and we're sure they will have an amazing time and look forward to hearing about the amazing time they have had.
Fox News (17th June, 2022)
The children have been a fantastic advert for Whitewater pupils by working hard and showing our values. This week, everyone has engaged in their project-based learning. The children have become experts in a country of their choice. They have learnt a range of geography skills whilst also finding out about traditional tales, pastimes, cuisine and sports. Today, they have presented their projects to a high standard. I think we could enter a Fox Team into any quiz and they would be very successful…University Challenge – here we come!
Year 6 Residential – Mr Greenley's Diary…
We arrived safely at PGL on Monday afternoon and after a tour of the site, we went down to the beach. It was less than 5 minutes before the children were in the water! This was followed by lots of exploring in the rockpools and shell collecting.
Tiredness did set in on night 1 and we managed to have all the children in bed by 10:00pm and asleep by 11!
Tuesday morning was a bit of a shock for as our breakfast slot for the week was 7:10am meaning a 6.20am wake up call! The explanation to our group leader that some of us don't get up until 7:30 fell on deaf ears!
Tuesday morning started with fencing, learning how to start a duel and lunge using the foils. The rest of the day seemed to be spent looking up with sessions at the climbing wall, vertical challenge and trapeze. All the children managed to make it to the top of all the challenges. The children all ate well and have been really sensible about making sure they are hydrated in the beautiful weather and have applied enough sun cream through the day.
Wednesday's activities started with more heights and all the children had successfully completed the abseil down the wall. This was more challenging than the climbing we had done as leaning over the edge was really quite scary! From there we went onto buggy building with the children learning how to tie knots before riding in their home-made buggies. The excitement of the shop followed lunch today and a great water fight with Keri, our group leader to keep the children cool in the hot weather we have been having. In the afternoon we completed the low ropes course and finished with our last climbing activity this week - Jacob's ladder.
This evening is a more relaxed affair with a campfire evening and marshmallows.
The children all really enjoyed the campfire last night and the toasted marshmallows went down a treat as can be seen from some of the photos. A more relaxed evening rather than running around meant we were able to get the children to sleep by around 10:30 last night.
On Thursday, the weather continued to be exceptionally warm but less strenuous activities has meant the children remained cool. Orienteering in the morning saw the benefit of the map skills we had learned in school with the children working out where different points were on the map and finding the stamp. From there we went onto Survivor in the shade of the woods. Everyone had a go at making tent pegs from sticks they had found, using knives (and protective gloves!) to whittle their sticks. They also used a flint and steel to set light to some cotton wool. Everyone achieved both tasks. The den building contest finished this activity with two excellent shelters built. After lunch, we entered the tunnel trail with the children crawling around iron tubes underground to different areas where they could poke their headsout. Myself and Mrs Brett thought it looked rather like whack-a-mole with the children's heads appearing from the earth bank at different point.
The children have had a great week and have thrived on the challenges presented to them. I am feeling very proud of the team work they have exhibited and the kindness and independence they have shown throughout the week. I think they are also all looking forward to telling you all about it as well as a chance to sleep in their own beds and avoid more 6:30am wake up calls!
This term, we are launching our topic all about Ancient Greece. To find out more information, have a look at our Topic Overview below.

Fox News (20th May, 2022)
It has been another busy two weeks in Fox Class. Last week was SATs week for our Year 6s. They have worked really hard to get to this point and all the staff involved were delighted with the effort the children put into the tests over the week. The Year 5s carried on with normal lessons albeit with different staff teaching them. They also managed to maintain their focus despite school being a bit different for them over the week. Well done everyone! The beginning of this week, the focus was on our trip to London. (More about that elsewhere in the newsletter). We found out a bit more about the Civil War and what happened at Basing House using a variety of evidence, even encountering some original handwritten letters from those involved. To help understand what goes on in Parliament now, we set up the house of commons in our classroom and held a debate - the subject chosen was allowing children 5 flexible holiday days during term time. Children stood up to speak in the debate and then voted on the bill by using the two doors into the classroom. It was great when we visited Westminster that the children were able to see where this had all happened. Both groups on our visit were complimented by the tour guides for their knowledge and engagement. Well done all!
Foxes on the loose in London…
On Wednesday 18th May, Fox Class went on a school to London and got a guided tour around the Palace of Westminster. We got to stand in the house of Lords, meet a Lord in person and even saw the Speaker's procession. We were well educated by our guides. Westminster Hall had been the inspiration for the Great Hall in Harry Potter. After that, we went to St James' Park and had lunch there before going to the National Gallery. An expert guide called Carlo showed my group around and taught us about the meanings of paintings and how they were created. We saw works of art by Turner, Bellini, Van Gogh and Monet. It was an amazing day out.
Children's comments…
Matthew - The National Gallery had some really interesting paintings
Louie - I was fascinated with the guide explaining about the paintings and how they were made
Ivy - My favourite picture was the ship
Ash - I was impressed with the Queen's golden throne in the House of Lords
Eddie - I liked seeing the place where Charles I was condemned and visiting places where history actually happened
Fox News (6th May, 2022)
It has been great to see the children back from their Easter holidays and hear about all their adventures while they have been away. The hard work hasn't stopped though with our Year 6 preparing for their SATs week next week. The class have spent a little more time in their year groups to prepare for this and we are all feeling confident.
Our English lessons have taken a dark turn this term, with our text being "The Viewer" by Gary Crew. The children have loved seeing the strange box arrive in the classroom before investigating the vocabulary the author had used. We have taken the structure of the story and adapted it to create our own versions - beware before you read them…they might give you nightmares!
We have started our History topic this term looking at the civil war and learning some basic information about the characters involved ahead of our trip to London in a week and a half's time. Horrible Histories has come in really useful getting some of the information but has left us with a lot more questions about what actually happened.
There have been lots of extra events already this half term with sunflower planting and cricket taster afternoons and more to come this term - it may be short but certainly full of learning!
Fox News (8th April, 2022)
It's been a whirlwind of a term for Fox Class and the last three weeks have flown by. Year 6's are now into full on SATs preparation with another set of papers completed. It's been amazing to see the progress the children have made in the last 6 weeks. Year 6 parents have an information meeting about this on the Tuesday we get back after Easter. We have been writing newspaper reports for our English this week too. We started the unit by exploring newspapers in the classroom. At times, it looked more like we were preparing for painting than an English lesson. We have also tried our hand at being newsreaders to ensure the tone of our reports was right. In DT, we are all set with our designs following our design brief to make our self-propelling vehicles. Time has run away with us, so these will be completed after half-term and photos and videos will be made!
Finally, from me, a huge well done to the children. It's always hard changing teacher part way through the year, but they have coped brilliantly, lived up to the expectations set, and it has been great to share their learning with them through the highs and lows of the learning pit.
Fox News (18th March, 2022)
Fox Class have had another busy couple of weeks. Our science lessons have followed through our work on classification. The children have been finding out all about the work of Karl Linnaeus - our Latin is definitely improving as a result!
New tables have also arrived giving the children a chance to work in a very adult way of working by standing up. Some children have really found it has helped their concentration. In maths the children have been learning about imperial units of measure. There has been a lot of head scratching about converting pounds into kilograms, pints into litres and everything back the other way again. The worded problems requiring more than one calculation added even more challenge and some had everyone in the classroom scratching their heads - adults included!
Fox News (4th March 2022)
It has been lovely to have Fox Class back in after our rather abrupt end to the last half term. I hope you all enjoyed seeing the gargoyles the children made in real life when they brought them home on Monday!
All our topics have changed over half-term and we have had a very varied week which has included some discussions about immigration, using our driver text of "The Island" before thinking about different viewpoints of those involved in the story. We have created flip book animations as we prepare to look at animation in more detail for our computing topic. The children had some fantastic ideas of people being abducted by aliens, meteors falling in houses and sunflowers growing from seed. We had a great afternoon investigating and interrogating Ordnance Survey maps and thinking about what we want to find out in our map skills topic.
World Book Day saw the children choose their next class story from a choice of 32 texts as the "World Cup of Books" took place up to breaktime. There were some very hard choices as Black Powder came up against Holes and some very close votes that saw The Dream Snatcher defeat Phoenix to make it through to the final.
It's promising to be another very busy half term!
Fox News (11th February 2022)
Fox Class have had another full fortnight of learning. We are now coming to the end of our writing topic on gargoyles with the children now planning to write their information texts. We have certainly had some gruesome ideas about their diet! I can't wait to see what their models look like when we make them next week. Disappointingly, we have also finished our first class book. Sputnik's guide to life on Planet Earth by Frank Cottrell Boyce has been a huge hit with Fox Class over this half term, but I would encourage you to act with caution if any of the children ask to read the manual for any electronics you have around the house! Year 6 have been taking some practice SATs papers this week. I have been delighted at the effort they have put in and with the Year 5 children who have been working quietly during maths lessons to allow their classmates to concentrate during these lessons. Our weekly times tables challenge is also proving a hit in class. Over the last two weeks every member of the class has improved their recall of key times tables facts. 4 minutes and 35 seconds to beat!
Fox News (28th January 2022)
Fox class have spent the last week climbing out of the learning pit using protractors to measure angle accurately in maths. It's been a bumpy ride but great resilience has been shown. Science, looking at evolution and inheritance, has led us to imagining what the children of Little Misses and Mr Men would look like with some very interesting results. We have also completed our first long write of 2022 imagining what the Gargoyles would get up to if they were in Rotherwick. It has shown the very interesting view of what the children think their teachers get up to in school once all the pupils go home!
Fox News (14th January 2022)
Fox class has had a great start to the New Year. We have focussed on the presentation of our work, already read a range of Greek myths and imagined what it would be like for gargoyles to come to life, found out about Charles Darwin's life and work, explored which of the ten plagues of Egypt was the worst and even fitted in two PE lesson. All in the space of a week!
Other Important Information
Staffing
As you are now aware, Foxes Class is taught by Mr Greenley and supported by Mrs Brett, Mrs Owen and Mrs Nicholls. Our sports coaches from SCL will teach Foxes class for half a day on Fridays providing statutory PPA cover for Mr Greenley.
Homework
Learning out of school is vital to developing successful learners. We have looked at the engagement throughout last term and made some slight adjustments as a result. We have made the decision to change how we set homework and how you can submit the work. With the purpose of making homework more accessible, we are providing the children with homework books and hard copies of the set homework meaning that we rely less on Seesaw.
We want homework to be engaging and purposeful so that it consolidates the learning from the classroom. We also want it to be manageable as we appreciate how busy home life can be.
Homework will be sent home on Fridays and collected in the following Wednesdays. For Foxes class, the homework consists of:
Daily reading for 15 minutes
Weekly Maths activities (should take between 30-45 mins)
Weekly Writing activities (should take between 30-45 mins)
PE Kit
There will be two sessions of PE per week; one indoor and one outdoor session. These are planned for Wednesday and Friday, however we do expect all pupils to bring in their full PE kit on a Monday and take it home on a Friday as there may be additional opportunities for PE presented through the week.