Collective Worship
To worship is to quicken the conscience by the holiness of God, to feed the mind with the truth of God, to purge the imagination by the beauty of God, to open the heart to the love of God and to devote the will to the purpose of God. Archbishop William Temple (1881 – 1944)
Our school is a Church of England Voluntary Controlled School.
Founded in 1712, Whitewater C of E Primary School preserves and develops its religious character in accordance with the principles of the Church of England and in partnership with the Churches at the parish and diocesan level. The school aims to serve its community by providing an education of the highest quality within the context of Christian belief and practice. It encourages an understanding of the meaning and significance of faith and promotes Christian values through the experience it offers to all its pupils.
Whitewater C of E Primary School is part of the Diocese of Winchester and works actively with the Diocesan Education Team. We are part of the Whitewater Benefice and have two active Foundation governors who regularly visit school and support our distinctiveness as a Church of England school. Our Rector, the Reverend Marion De Quidt, delivers collective worship each Thursday morning. Members of the Church community lead 'Open the Book' weekly in school, an assembly which engages the children in stories from the Bible.
The school meets daily for collective worship, which is educational and inclusive and focuses on Christian themes. Collective worship is an integral part of our school day and reflects Anglican beliefs, practices and values in accordance with the requirements of the Trust Deed. Worship themes are planned to help children experience awe and wonder, to promote willingness to reflect on their own experiences and those of others, and to learn about the life and teachings of Jesus.
Walk through Easter and The Easter Service - April 2022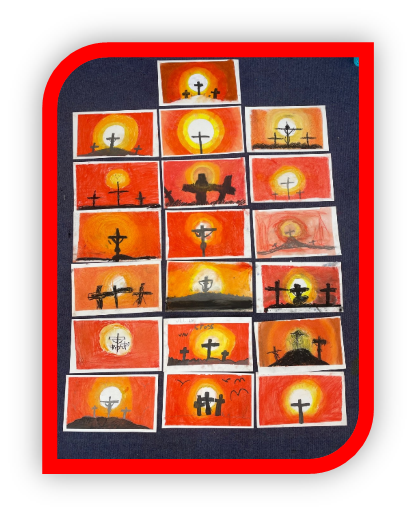 Throughout the week, we have been immersed in all things Easter. Hedgehog Class delved into some incredible artwork which you can see in the photo whilst many of the children in Otter Class and Fox Class had the opportunity to take part in the 'Walk through Easter' which was delivered by Marion and her team. This was an amazing interactive learning experience held at Rotherwick Church which enabled the children to gain a deeper understanding of the different parts of the Easter story. This series of sessions ended with the Easter Service yesterday. We all made the short (but windy) walk up the hill to the church where we were greeted by Marion. It was lovely to see parents and family members there joining us. The service included some excellent readings from the children in Fox Class, some joyful singing by everyone and led beautifully by Marion. It really was a lovely celebration of Easter. When the service was over and the children returned to school, I joined several parents who were rewarded for their singing with some hot drinks and hot cross buns. A special thank you goes to Marion who really is a terrific host!
Collective Worship update - 18th March 2022
Yesterday, we left school and set off on the lon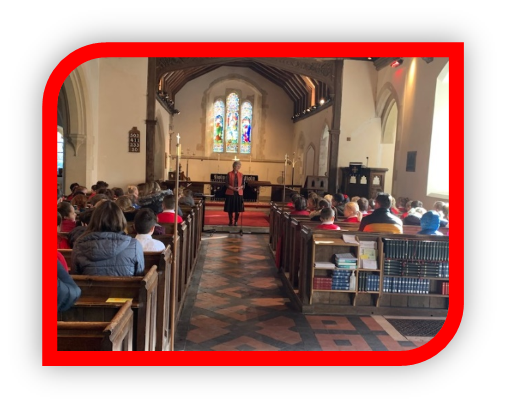 g walk (all 100 metres) to Rotherwick Church for our assembly. There was a slight chill in the air and bright sunlight streaming through the trees which makes a massive change from the bucketing rain we endured the day before. As always, Marion gave us the warmest of welcomes as we filed in. We have been looking at the value of justice over the past few weeks. We've been learning about global justice and we've posed the question: if the world has enough food, clean water and money for everybody, why do some people and countries not have enough? Justice also seems very appropriate when considering what's going on in the world at the moment. It also links in to the Easter story so well. This is something which we'll be delving into over the next few weeks.
Collective Worship update - 11th February 2022
In the last newsletter, I shared the exciting news that we were visiting Rotherwick Church for our Collective Worship last Thursday. I'm delighted to share that it was a huge success. With such a beautiful church so close, it's great that we can incorporate visits into our regular assembly timetable. Marion was on fantastic form (as always) and the children and staff alike fedback that they thoroughly enjoyed the experience and look forward to doing it again. A big thank you to Marion who provided such a warm welcome and delivered such an engaging collective worship.
Collective Worship update - 28th January 2022
The children showed great enthusiasm and compassion as we looked at the inspiration that was Martin Luther King last week as we delve into the concept of peace. Rev. Marion supports our collective worship programme by delivering the assembly every Thursday morning. Together, we have decided to hold next Thursday's worship in the church instead of the school hall. This is something which we plan to do every three to four weeks. Having such a wonderful church on our doorstep seems like an opportunity that we should be making more of!
Collective Worship update - 14th January, 2022
As part of our Collective Worship programme this half term, we are looking at the value of Peace. Key questions which we'll explore include: What is Peace? How can we find peace, even when it is difficult? Can peace exist without fellowship? In addition to this, we will look at key figures throughout history such as Martin Luther King. It would be great if you could find time explore these questions and share your thoughts at home with your children.