Class 5
Spring Term review - Movers and shakers
Class 5 have immersed themselves in all aspects of their learning this term. They have thoroughly enjoyed reading The Polar Bear Explorers' Club and Into the White, completing their Mayan masks, which hang proudly in the classroom as well as, more recently, creating Blitz artwork demonstrating the utter destruction caused during World War Two. As we come to the end of yet another action-packed term, we are still very busy creating LEGO animations based on a class text or on movers and shakers, that have influenced the world that we are lucky enough to live in today.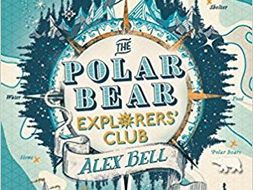 Summer Term preview - Where have we come from and where are we going?
I am pleased to announce that the trip to Gilbert White's House has been rescheduled for the first day back after the Easter break on Tuesday 23rd April. This will bring the Spring Term topic to an end before our attention focuses towards Cogheart by Peter Bunzl, the works of Shakespeare and the water cycle amongst many other things.
The Summer term will be a busy one with SATs, a trip to THINK Safe, the Leavers' Service at Winchester Cathedral, revealing and preparing for the Key Stage Two production and of course looking ahead to pastures new for the current year six children in September 2019.
Friday 1st February - school closure due to the adverse weather
I know many of you like you to do your homework at the weekend so if you scroll down to the bottom of the page there is a reading activity and some maths homework. The homework will be physically handed out to everyone in class on Monday. You have your Times Table Rock Stars logins to keep improving your fluency too. Have an excellent weekend!
Spring term update - week beginning Monday 21st January
As always, within a couple of weeks of the Spring term, the Christmas holidays seem a distant memory! Class 5 have settled back in very well and seem to be enjoying their new topic of 'Movers and Shakers'. They have been very enthusiastic in PE to enhance their skills as penguins when following a dance routine and also freestyling during the instrumental breaks!
In English, Stella Snowflake Pearl is at the forefront of our minds and her impeding expedition with Felix. Having studied the Polar Bear Explorers' Club rules, the children made up their own rules for Class 5 Explorers' Club , which included making sure that they do not appear slovenly (noun: untidy or messy) at any point! We have also written an extract from a prospectus for Whitewater Finishing School and a balanced discussion on whether Felix should have taken Stella on the expedition or left her at home with dreaded Aunt Agatha.
In Class 5, we are currently reading The Jamie Drake Equation by Christopher Edge at every available opportunity as well as Polar Bear Explorers' Club as our class text through our English.
The children have been practising for Orchestra Unwrapped and seem very excited to take part again like they did in Year 3. We have finally finished our Mayan masks, which will be proudly hung in the classroom from this week - the children have worked incredibly hard on these and they are quite impressive.
For the Spring term overview, scroll right down to the bottom of the page.
Reminders from Mr Grinham
Please ensure your child brings in a water bottle and their reading record each day
Every child should be reading regularly at home as per our homework policy - the children are making fantastic choices with their reading books and the art of reading aloud to someone develops many skills
PE kits should be brought into school on Monday and taken home on Friday - this should include jogging bottoms and a jumper during the unpredictable months at the beginning of the year
Homework club continues to run on a Monday lunchtime for any child, who wants some support or to go over any questions from the Maths and English homework
PGL - Thursday 20th September
What an action-packed and windy day!
After another quiet night in the Alberta cabins at Little Canada, the children needed all of their beauty sleep to conquer the activities.
There was definitely a buzz in the air at breakfast at the thought of experiencing quad biking and the giant swing before lunchtime. As group two were getting to grips with the quad bikes and developing the smooth operation of acceleration down the hill and steering around the bends, group one was screaming and shouting their way on the giant swing. Many children went further than they thought they would do so well done to them.
When it came to group two's turn on the giant swing, we well and truly defeated it. Emily showed a great desire to face her fears, while I was immensely glad that Alex pulled the rope for us, when we were at the top. I believe the children found my loud noises most amusing, when we came hurtling towards the ground before swinging back and forth.
In the afternoon, 'The Cheese' team took the plaudits in group two on aeroball, while group one was experiencing the sensory trail. I am sure you will agree, it looks like they had a lot of fun! When Honey (or 'Laces' as she is now commonly known) mentioned that she wanted to be the wettest and muddiest in group two during sensory trail, I felt it only right to try to help her reach her goal. I have learned many things about the children this week: the volume of Honey's scream has definitely been one to remember!
The stars for today were Honey for guiding 'The Cheese' to victory in aeroball; Madi for the courage in giving each and every activity all of her effort despite feeling under the weather; Poppy W for making me almost cry with laughter by giving me a running commentary of the crazy antics going on in cabin three; and Millie for achieving the impossible: smiling throughout the entirety of the giant swing. I think I have only just recovered myself!
Now, with only two activities to go, the packing has begun. We have another busy day tomorrow. We are due to be dragon boating in the morning but for the previous three days, no water sports have taken place because of the direction of the high winds so we will wait and see.
Your children are very excited to tell you all about their adventures and personal achievements this week. Some of them are now beginning to lose their voices thanks to the evening entertainment tonight of wacky races and I will return them to you with worn out feet, wind-swept hair, a suitcase of dirty clothes and with big smiles on their faces as they have officially been PGL'd - they have represented the school in a very positive and caring way and I look forward to getting them back in class next week to be models for the younger children once more.
Many ask why people teach: this week is an example of the model answer.
Thank you for your support and we look forward to seeing you all, hopefully, at approximately 5pm.
Mr Grinham
PGL - Wednesday 19th September
The children were definitely a little less energetic at breakfast time this morning compared to yesterday. Most cabins needed rousing on more than one occasion. A few children were still fast asleep one minute before we left for breakfast and made the short walk to the dining hall – some of whom were clad in their pyjamas. Sausages, hash browns, toast, cereal and porridge followed.
The group were excited for a morning of coastal walking and climbing. The weather was slightly erratic this morning however high winds and showers did not dampen our spirits!
Mrs Moore and Alex were the first to brave the climbing wall in group two – one being more successful than the other!
Meanwhile, group one was scavenging on the beach and learning about the difference between common whelk and netted dog whelk shells. Who knew? The children enjoyed skimming stones along the narrow and secluded stretch of water and helping pick up litter from the shore.
Then, while group two were scavenging along the beach, it was group one's turn to scale the climbing wall (a different climbing wall and supposedly a much more straight forward one according to Mrs Moore). Will managed to beat me to the top of the wall - it was a photo finish. I had more luck second time around by pipping Poppy W to the post but it was a very close call.
In the afternoon, both groups came together for archery and orienteering. The children could speak confidently about their experiences of both activities last year in school through the opportunities and teaching that was offered at Whitewater. Consequently, the expectations were raised and many fun games were played, including one where success was measured in napkins, tea stirrers, condiments and cutlery!
At the end of what seemed an extremely long day, the children were challenged to re-create PGL activities within their cabins using their teddies. The children took this very seriously as bonus points were up for grabs. Two cabins stood out and the photos are in the gallery. Tune in tomorrow for another thrilling challenge in order to separate the cabins on the leader board!
Somehow, tomorrow is the final full day of activities and final dinner on the Isle of Wight – quad biking, giant swing, sensory trail and aeroball await the sleepy heads come the morning.
Stars of today were Emily for her courage to reach the top of the climbing wall when she showed great determination in navigating her way up the wall; Alex and Poppy BH for the care and consideration shown when picking up litter from the beach, without prompting. Mrs Moore was very proud of both of them. Finally, Alfie for his determination and listening skills during archery as his accuracy and technique vastly improved over the course of the session.
PGL - Tuesday 18th September
After an extremely settled first night, bar the gale force winds in the early hours, we were
bright-eyed and bushy-tailed (much like the common red squirrel) at our 7am breakfast slot. One room, without naming names, had their bedroom light on at 5:30am and were ready for the day: our Whitewater children are always ready for an adventure!
Breakfast consisted of bacon, spaghetti hoops, mushrooms, sausages, bread, porridge, cereal, toast, fruit and/or yoghurt. Needless to say, that the children were ready to take on the PGL activities.
After some quiet time in the cabins, multiple flooding of bathrooms and warm showers later, Class 5 were ready to take on Jacob's Ladder and Fencing.
Lily did her best to defeat Mrs Moore in a fencing duel while Nathan was standing on my shoulder in a bid to reach the summit of Jacob's ladder: it was not a surprise when he and Will reached the highest point leaving me floundering beneath them. I always find the problem-solving activities fascinating to observe how the children communicate with one another and work together to crack the code – today was no exception. The cohort are bonding very well together and although most of them have known one another for many years, the exclusivity of Year 6 is bringing out a range of invaluable communication skills, which has been a joy to see and will help us to make this year a very successful one.
Following a lunch of jacket potatoes with beef chilli, cheese or beans, we competed in team sports for our first session of the afternoon. Human 'Bop-it' and other original ball games continued. Our children really do revel in a bit of competition!
Before the evening activity, the children entered the shop for the first time and they all deliberated on what to buy; they were very sensible in the choices that they made as well as deciding to share the money across the week. I hope you enjoy the kind-hearted and thoughtful gifts, which your children may have chosen for you!
The room inspections continued today and Mrs Moore and I are finding it extremely difficult to separate all of the cabins! In some cases, we have had to use two decimal places as the margins are so small – you should all feel very proud of them.
Tonight, a fun-filled game of 'Passport to the World' was more than enough to send Class 5 off to sleep. This was after some quiet story time of our current class reading book: The Explorer by Katherine Rundell. The children are really engaged with the story and would happily recite the main crux of the novel so far – I love their attitudes to reading.
Stars of today were Leah for her leadership skills during problem solving to get her group out of a human knot; Evie for scaling Jacob's Ladder faster than anything I have previously seen; Will for defeating Mrs Moore in one of the original ball games of 'catch or punch'; and Lily because of her light-footed approach for both offence and defence skills during fencing.
By the time some of you may read this on Wednesday morning, we will be almost halfway through the week. Although, now, it feels like we live here!
PGL - Monday 17th September
What a fantastic first day to our residential at PGL!
It has been a real pleasure to take the children away and they have excelled at the activities on day one. The ferry journey now seems like a long time ago and Class 5 feel like they have been here longer than a few hours – I will take that as a positive comment about how comfortable they feel. A few games of
'I Spy' ensued on the coach, much to the delight of the children!
After arriving on the site, we could get straight into our rooms and the beds were made extremely quickly and efficiently. We then strolled down to the creek at the bottom of the PGL site for lunch under the shade of some trees with the Spinnaker Tower visible in the distance.
Following on from lunch, we met our group leader (Tahlia), who took us on a tour of the Little Canada site before playing some games together on the field. By this point, the children's energy levels seemed to wane, after the excitement of the day, so we had some quiet time in the cabins before we headed to dinner.
As always, the Class 5 children were very polite and thankful to the catering team in the dining hall and seemed very happy with the options for dinner: some devoured the sausage and mash or rice, while others enjoyed a lentil and vegetable curry.
It would not be right to have a day of residential without a room inspection! Mrs Moore and I were very impressed – let us see if it continues when the dirty clothes begin to appear. Most children even decided to have a shower this evening after dinner – I think they will all sleep well after such a long day of eagerness and triumph.
Stars of today have to be Freddie and Isabel for the courage to smile and carry on after some bumps and bruises; Izzy for the creativity of somehow linking her suitcase with a bollard, almost toppling over as we walked to our cabins but laughing all the way through; and Nathan for showing tremendous fellowship in helping other children and teachers with their luggage off of the coach.
Have a look at the 'Photo Gallery' tab on the website for photos of today. They will be added to as the week goes on.
Autumn Term 2018 - Magical Mexico
As we begin the Autumn term, the children have already had a fantastic start to Year 6. The attitude, energy and determination they have shown in their learning has been excellent.
The children are excited about their upcoming residential to Little Canada, PGL in the Isle of Wight. Departing on Monday 17th September, the children have an action packed week of activities before returning home on Friday 21st September.
Check back here for updates from the trip during that week.
Please find below the Class 5 welcome letter.
For a 360 degree look at the Little Canada PGL site, please click on the link below.
http://www.pgl.co.uk/en-gb/adventure-holidays/centres/little-canada#.WbjkkWdTHKI