Year 6 Leavers' Service at Winchester Cathedral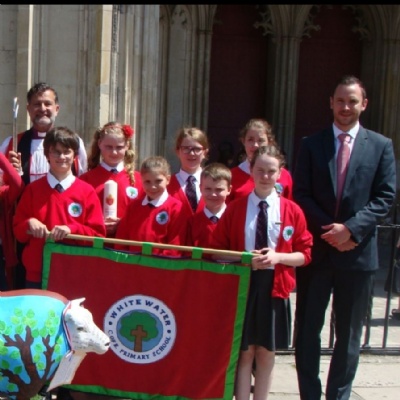 On Wednesday 14th June, Class 5 attended the Year Six Leavers' Service, which is organised by the Winchester and Portsmouth Diocese.
After spending the last few weeks learning all about the Ewe Matter project, we were wondering how we were going to represent our school, our values and our own interpretation of sheep from stories in the Bible. We think all the children of Whitewater did a fantastic job and we were very proud to take Val (the name of our sheep from an idea of Poppy in Class 5), which is short for values. On arrival at Winchester, Miss Edwards and some of the children wheeled Val down the cobbled streets and up to our destination. Our children found the cathedral stunning: during the morning service, they could not help but stare all around them at the fascinating detail and size of it.
Following on from this, the children enjoyed exploring all the key parts of the historical building. Many of them were kneeling up the Pilgrim steps and they were extremely interested in the stain glass windows especially the Wonderful West Window. After the exciting trail and after having a photo with Val and the Bishop of Winchester, we enjoyed a picnic lunch in the glorious sunshine.
During the service, the children sang incredibly well. Considering they were outnumbered by most other schools, you could not tell with their confident and tuneful singing. Well done to all of you for representing the school so well.