Red Kites - Thursday 14th May
We all need a helping hand from time to time...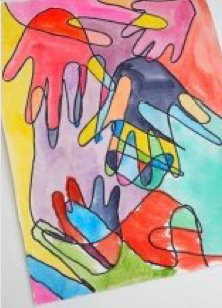 I saw this on from another teacher on Twitter and thought it looked great! Have a go and send in your completed designs!
Draw around all of your family member's hands, each hand overlapping, then colour all of the different segments with a different pattern or colour!
Questions on a postcard, or more likely, a blog post!
What have you needed a helping hand with? How have you helped others with a helping hand?
Ellie needed a helping hand getting her helmet on and she finally agreed to allow me to help and then I needed some help from her when Jessica didn't have a toy to play with.